Music City's First Draft!
2019 NFL Mock Draft 1.0
Pick 1: Arizona Cardinals- Kyler Murray, Oklahoma.
By Eli Cornett: This is obvious number one pick, with Josh Rosen on the trade market. New head coach Kliff Kingsbury will probably pull the trigger on this upcoming NFL phenom. Kingsbury has developed great quarterbacks before, maybe some names you have heard before. Patrick Mahomes and Johnny Manziel. Murray will immediately pick up the struggling Arizona offense. They averaged 14.1 PPG, 241 YPG, 157.7 yards passing per game and 83.9 yards rushing per game. All ranked last in the NFL, Murray will have plenty to work with. The running game should improve with David Johnson returning to the backfield, along with Larry Fitzgerald and upcoming star Christian Kirk. If Arizona can pick up a running back mid second to late third round to backup Johnson, they should be in good shape.

Pick 2: San Francisco 49ers-Quinnen Williams, Alabama.
The 49ers have three options with this pick, all defensive lineman. First choice would be Alabama star Quinnen Williams, second, brother of former Ohio State standout, Nick Bosa. The only problem with this choice is Nick Bosa went out with a injury week 3 of last season. He has plenty of tape from the last two seasons, as much as Quinnen Williams in fact. But there's a slight chance Bosa could be rusty. The third option is Houston's freak product Ed Oliver, Oliver would also be a good pick but based off the year Williams had last year going up against several top 10 teams (Including Kyler Murray's Sooner offense). Williams would going into a defensive front beside Solomon Thomas, Arik Armstead, Deforest Buckner and newly signed breakout star Dee Ford. Any of these three possible draft prospects would fit in just fine. Williams and Thomas still have room to grow and I have no doubt in my mind this defensive front will be one of the most feared in the NFL.
Pick 3:  New York Jets-Nick Bosa, Ohio State.
Nick Bosa is the obvious choice here with Quinnen Williams off the board. Bosa will be joined by Leonard Williams on the New York defensive line. The Jet's defense was ranked 29th last year with only 39 sacks. Nick Bosa should speed up that production, remember it may take him a couple games for him to get back into his rhythm because of an injury. But he should be a breakout player for the Jets.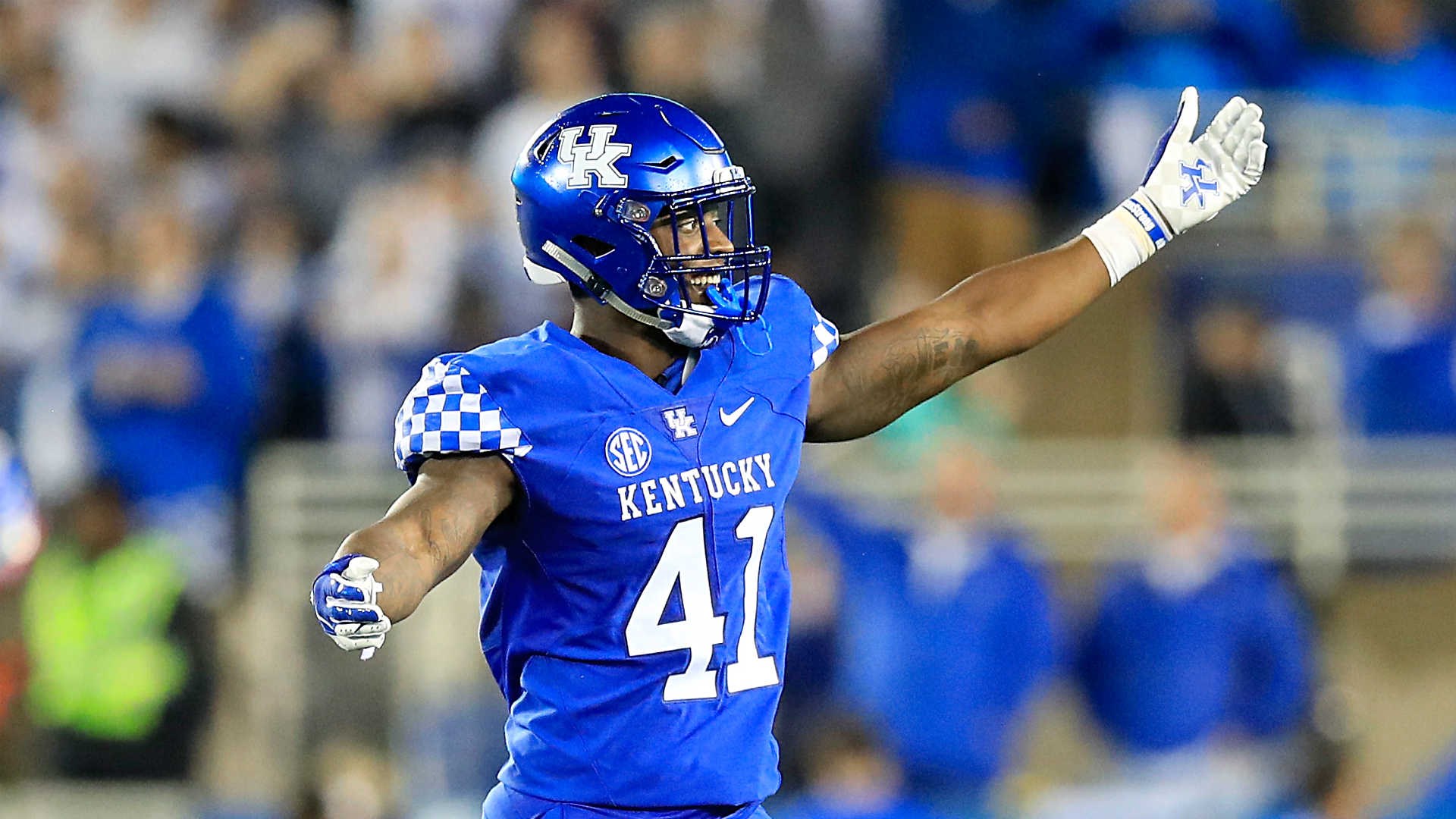 Pick 4: Oakland Raiders-Josh Allen, Kentucky.
Josh Allen was a breakout star last year for the Kentucky Wildcats. He led the team in sacks with 17, Oakland needs a pass rusher bad. They only had 13 sacks last year, the defense was absolutely horrific after the loss of Khalil Mack. Josh Allen could give them that spark on the edge that they need.

Pick 5: New York Giants-Drew Lock, Missouri.
There are many questions still to be answered about this pick, it could be Lock, could be Haskins and it could be Daniel Jones. Bottom line is the New York Giants need a quarterback, it doesn't matter who it is, they need a quarterback. They could also take a pass rusher here, Rashan Gary or Ed Oliver could also go here.
Pick 6: Tampa Bay Buccaneers- Ed Oliver, Houston.
Another interesting scenario, I have Ed Oliver going to Tampa because of their need on the defensive line. But, they also need a potential replacement for Jameis Winston. No one knows who Bruce Arians will take but I suspect he'll take Oliver here then maybe a Will Grier or Jarrett Stidham in the second or third.
Pick 7: Jacksonville Jaguars-Jawaan Taylor, Florida.
Jacksonville needs protection for Nick Foles, he has plenty weapons in Marquise Lee, Dede Westbrook and breakout star Keelan Cole. They could also take a running back in the later rounds to replace TJ Yeldon for the backup spot.
Pick 8: Detroit Lions- Rashan Gary, Michigan.
Rashan Gary is the smart choice here when it comes to pass rushers. Gary plays a similar style to Ezekiel Ansah, Gary will be able to bring a lot of production to this defense. With D'Shawn Hand on the other side, the Lions will have a lot of young talent on that defense. Brian Burns or Clelin Ferrell could go here as well.
Pick 9: Buffalo Bills-Jonah Williams, Alabama
The Bills offensive line struggled majorly last year. Jonah Williams will be able to protect Josh Allen's blindside and perhaps will reduce the amount of sacks and pressures. The Bills offensive production should go up with the addition of Cole Beasley, John Brown and TJ Yeldon.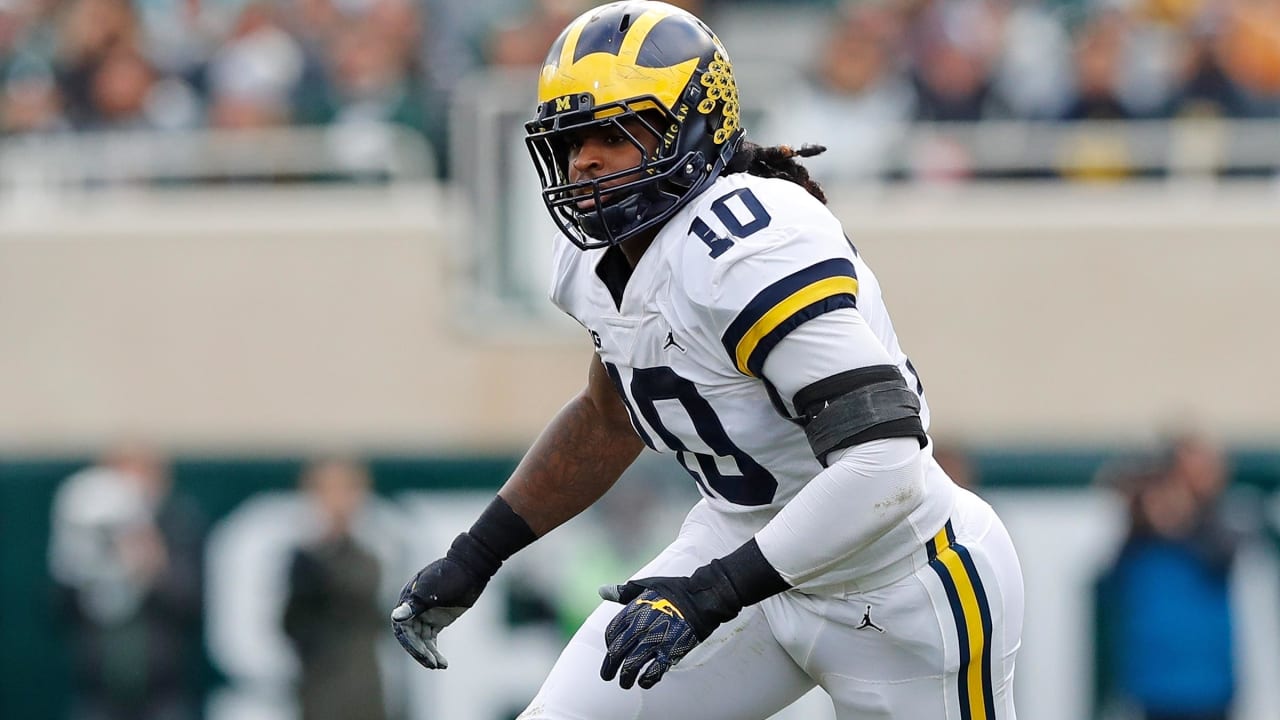 Pick 10: Denver Broncos- Devin Bush, Michigan.
Here's another interesting pick, Devin White could go here, Daniel Jones could go here or Dwayne Haskins. But Devin Bush had a great year at Michigan and could replace Todd Davis at middle linebacker in his rookie year. Again, Devin White could go here, they just need a linebacker to plug up the middle.
Pick 11: Cincinnati Bengals- Devin White, LSU.
Devin White is the perfect pick for Cincinnati, with Vontaze Burfict off at Oakland, there is a need for a middle linebacker. Devin Bush could fall to the Bengals if Denver takes Devin White. Either way,  a good pickup for the Bengals. Clelin Ferrell could also go here.
Pick 12: Green Bay Packers-Brian Burns, Florida State.
Brian Burns is a lock, the Packers need production on the defensive line. They have no edge rushers whatsoever, Kenny Clark and Mike Daniels are solid in the middle but with Brian Burns on the outside, their production could go up tremendously. Aaron Rodgers also needs weapons, they could take a wide receiver or tight end here.  
Pick 13: Miami Dolphins-Dwayne Haskins, Ohio State.
Welcome to the Sunshine State Dwayne Haskins. It is clear that the Miami Dolphins need a quarterback since the trade of Ryan Tannehill. They ended up with Ryan Fitzpatrick as their potential starter heading into this season. Yes, Fitzpatrick had a great start to the year, but Miami needs a young, future franchise quarterback at the helm.
Pick 14: Atlanta Falcons- Andre Dillard, Washington State.
Dillard is a reasonable pick here for Atlanta, they need someone to protect Matt Ryan. They have plenty of production outside with Julio Jones and Calvin Ridley. So a offensive lineman makes sense here.
Pick 15: Washington Redskins-Daniel Jones, Duke.
Washington needs a backup for Case Keenum and we don't know if Alex Smith is coming back. Case Keenum has been at three different teams in the past three years so drafting Jones here makes sense/
Pick 16: Carolina Panthers-Cody Ford, Oklahoma.
Cam Newton's offensive line has been absolutely horrible the past two years. The Panthers have solidified all of Newton's weapons outside, they just need someone to keep him safe.
Pick 17: New York Giants-Clelin Ferrell, Clemson.
The Giants need someone to replace Olivier Vernon, the Giants traded Vernon to the Browns in March and are in search of a pass rusher. Ferrell or Wilkins could end up in New York. They could also get a offensive lineman like Greg Little.
Pick 18: Minnesota Vikings-TJ Hockenson. Iowa.
TJ Hockenson is a great young prospect coming out of Iowa, his teammate Noah Fant is another  choice with this pick for this Vikings. Kyle Rudolph is in the last year of his contract so this pick would make sense, but also drafting a offensive lineman to protect Kirk Cousins would too.
Pick 19: Tennessee Titans-Christian Wilkins, Clemson.
Welcome to the Music City Christian Wilkins, this would be a great pick for the Titans. Christian Wilkins would be lined up next to Jurrell Casey and would have the opportunity to mentor under him. Wilkins would definitely bring an energy to Nashville and everyone would certainly fall in love with him.
Pick 20: Pittsburgh Steelers-Greedy Williams, LSU.
Greedy gone greedy, the Steelers is a perfect landing spot for the All American, Greedy Williams. Sean Davis and Joe Haden are both in their final years of their contracts, so it would be a good way to teach Williams for a breakout year. With the loss of Antonio Brown however, the Steelers could also look for wide receiver such as Marquise "Hollywood" Brown. Another need would be on the offensive line.
Pick 21: Seattle Seahawks- Montez Sweat, Mississippi State.
With Frank Clark going to Kansas City, the Seahawks must have a plan.  They must have been comfortable with trading him because of their interest in Montez Sweat. Sweat is a great young prospect but so is his teammate Jeffery Simmons. Seattle is definitely going defense with their first pick in the first round.
Pick 22: Baltimore Ravens-DK Metcalf, Ole Miss.
The first NWO receiver goes off the board and it's the Hulk himself, DK Metcalf. With the crazy 4.32 he ran at the combine, his draft stock shot up. This is a steal for the Ravens and gives Lamar Jackson a go to guy. AJ Brown or Marquise Brown could also go here.
Pick 23: Houston Texans-AJ Brown, Ole Miss.
Back to back NWO receivers go off the board, Deshaun Watson should be pleased with this pick because he would two freakishly athletic receivers in Deandre Hopkins and AJ Brown. Don't forget Will Fuller V as well. Noah Fant could also go here, or if the Texans are comfortable enough they may trade this pick.
Pick 24:  Oakland Raiders-Josh Jacobs, Alabama.
With the announcement of Marshawn Lynch's retirement, the Raiders are in need for a running back. Josh Jacobs is a versatile back that would fit Gruden's scheme. Call him what type of  runnng back you want, Josh Jacobs can basically do everything. This would ease the stress off of Derek Carr and give him a safety outlet when times get rough.
Pick 25: Philadelphia Eagles-Mack Wilson, Alabama.
With Jordan Hicks gone, the Eagles need a commander in the middle. Mack Wilson is certainly that guy with his experience at Alabama. Following a long line of great middle linebackers at Alabama, and with White and Bush off the board. Philly this is the move!
Pick 26: Indianapolis Colts-Dexter Lawrence, Clemson.
The Colts have established their offensive line, but what about their defensive line. Dexter Lawrence would be able to plug up the middle with ease. There  are concerns because of the failed drug test, but this man is too good to get passed up on.
Pick 27: Oakland Raiders-Byron Murphy, Washington.
A hard hitting corner would be another great addition to the Oakland Raiders. Byron Murphy is a high motored, hit you in the mouth type of corner. Just watch the tape during his time at Washington. His teammate, Taylor Rapp could also go here.
Pick 28: Los Angeles Chargers- D'Andre Baker, Georgia.
With the success of Derwin James last year, the Chargers are looking to improve their secondary and take it to the next level. Baker would be a tremendous addition and would start right away. Watch out, this defense might be scary.
Pick 29: Seattle Seahawks-Deonte Thompson, Alabama.
With only one year as a starter, Deonte Thompson was a field general in the backend. With Earl Thomas and Kam Chancellor gone the Seahawks need to strengthen  their secondary. Thompson or Taylor Rapp could go here. Or they could trade this pick away even though they just got it.
Pick 30: Green Bay Packers-Irv Smith Jr, Alabama.
Everyone knows Aaron Rodgers needs weapons, and with most of the first round prospects off the board. The Green Bay Packers will have to take a skill position here, if not Irv Smith, maybe Noah Fant or Marquise Brown.
Pick 31: Los Angeles Rams-Erik McCoy, Texas A&M.
With Andrew Whitworth coming back for one more year the Rams have to take a offensive lineman. Erik McCoy did play center at Texas A&M he could easily make the switch to left tackle once Whitworth calls it quits.
Pick 32: New England Patriots-Noah Fant, Iowa.
The replacement for Rob Gronkowski is Noah Fant. A standout star at Iowa and one of the top tight end prospects in the draft. Noah Fant is the obvious choice here but they could also do a typical New England move and trade this pick.